Colitis and How We Care For It
Colitis is a bowel disease that causes inflammation, soreness, and ulcers in the colon and intestine. Even though most of its variants can be easily treated, if a person does not attend to the doctor or does not take care of their condition on time, it can evolve into something more severe.
There are different colitis variations, and many share symptoms and treatment.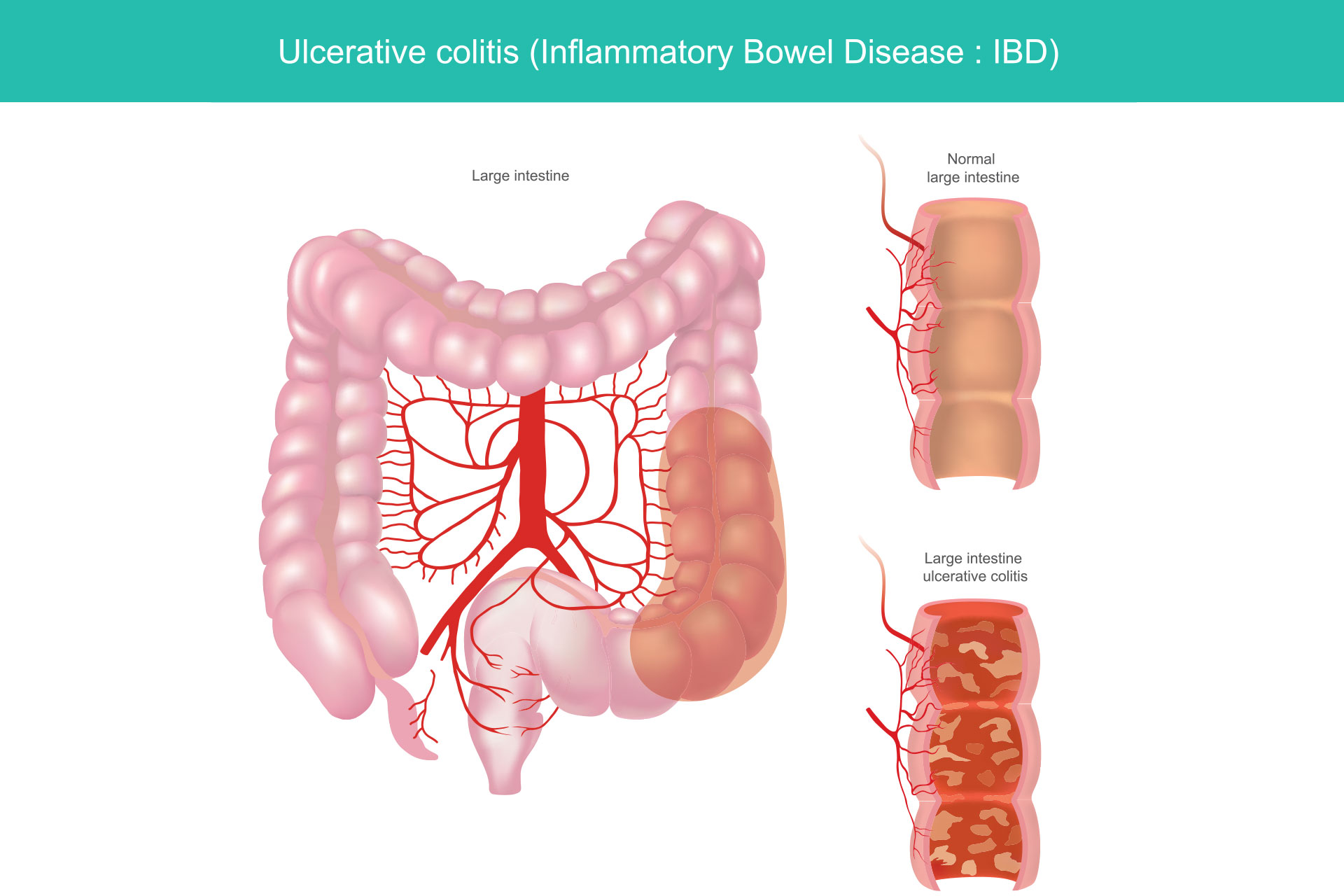 Ulcerative Colitis
It affects the digestive tract to the large intestine and rectum. Healthy parts in the intestine may still be present while other areas are sore and inflamed. It can cause rectal bleeding when evacuating and is uncomfortable and painful if not treated on time.
Left Side Colitis
It derives from ulcerous colitis and affects only the colon's left side. It affects around 40% of the people diagnosed with ulcerous colitis.
Microscopic Colitis
It is called microscopic because it is tough to diagnose and needs to be examined with a microscope to determine if the tissue is affected. There is no blood in the stool, yet it causes watery diarrhea. Women are more prone to microscopic colitis than men.
Pseudomembranous Colitis
Also known as C Diff Colitis or C. difficile infection is a bacteria that develops in the large intestine when there is an imbalance between good and bad bacteria. This bacteria causes colitis because it swells the intestine and can lead to chronic diarrhea, causing the intestine and colon to swell, developing colitis.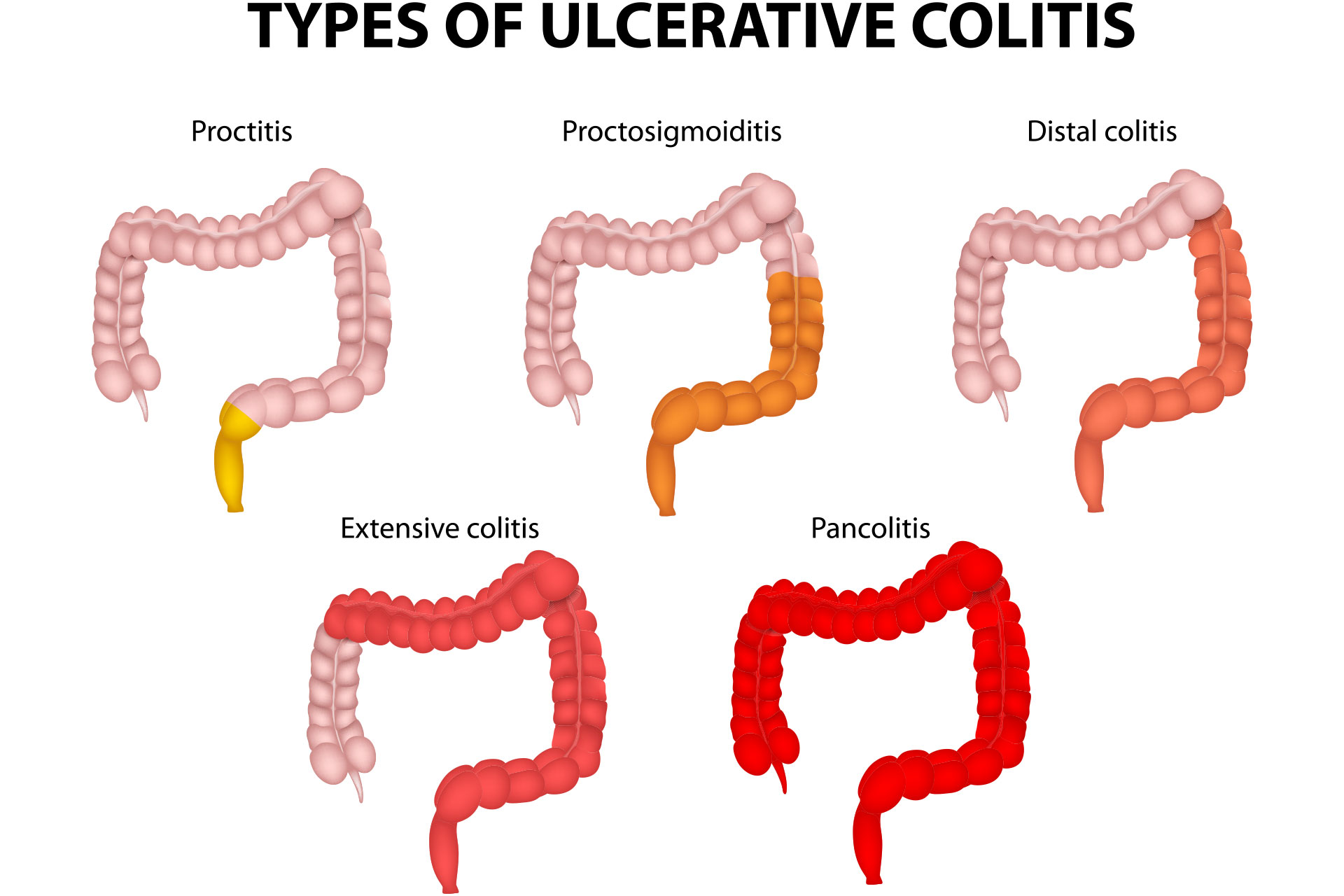 Symptoms are very similar from one type of colitis to the other. These are the most frequent signs of colitis.
Diarrhea (without any reason and lasts for more than two days)
Rectal bleeding
Blood in stool
Abdominal pain
Constipation
In more severe cases, the person might experience:
Weight loss
Chronique diarrhea for more than two weeks
Vomiting
Fever
Fatigue
Colitis can develop into colon cancer. It is crucial to follow up with the doctor, see what is causing discomfort, and start the treatment as soon as possible.
Unfortunately, there is no clear answer to this question. Some assumptions suggest genetics and lifestyle play a role in this condition. However, external factors that could lead to colitis are the following
Smoking
Age
Immune system
Autoimmune system complications are known to cause Microscopic colitis. The most common autoimmune conditions that could develop into this type of colitis are
Celiac disease (reaction to gluten)
Hashimoto's disease (hypothyroidism, or underactive thyroid)
Graves' disease (overproduction of thyroid hormones)
As of now, there is no cure for any colitis. However, it can be easily treated and controlled through several treatments.
Most treatments include a change in diet, like consuming food high in fiber or reducing foods that inflame and irritate the colon.
Medications like anti-inflammatory, pain killers, and antibiotics will likely be prescribed by a doctor depending on the type and severity. In more severe cases, the patient will require surgery.
As a general rule, a person should visit the doctor when they experience:
The person evacuates watery stools more than three times a day

The symptoms last more than two days

Persistent fever

Severe abdominal pain

Blood in stool
At Signature Health Services, our skilled nurses provide post-operative care to patients that have difficulty carrying out their daily activities until recovery. Check our nursing page to know more about us and our services.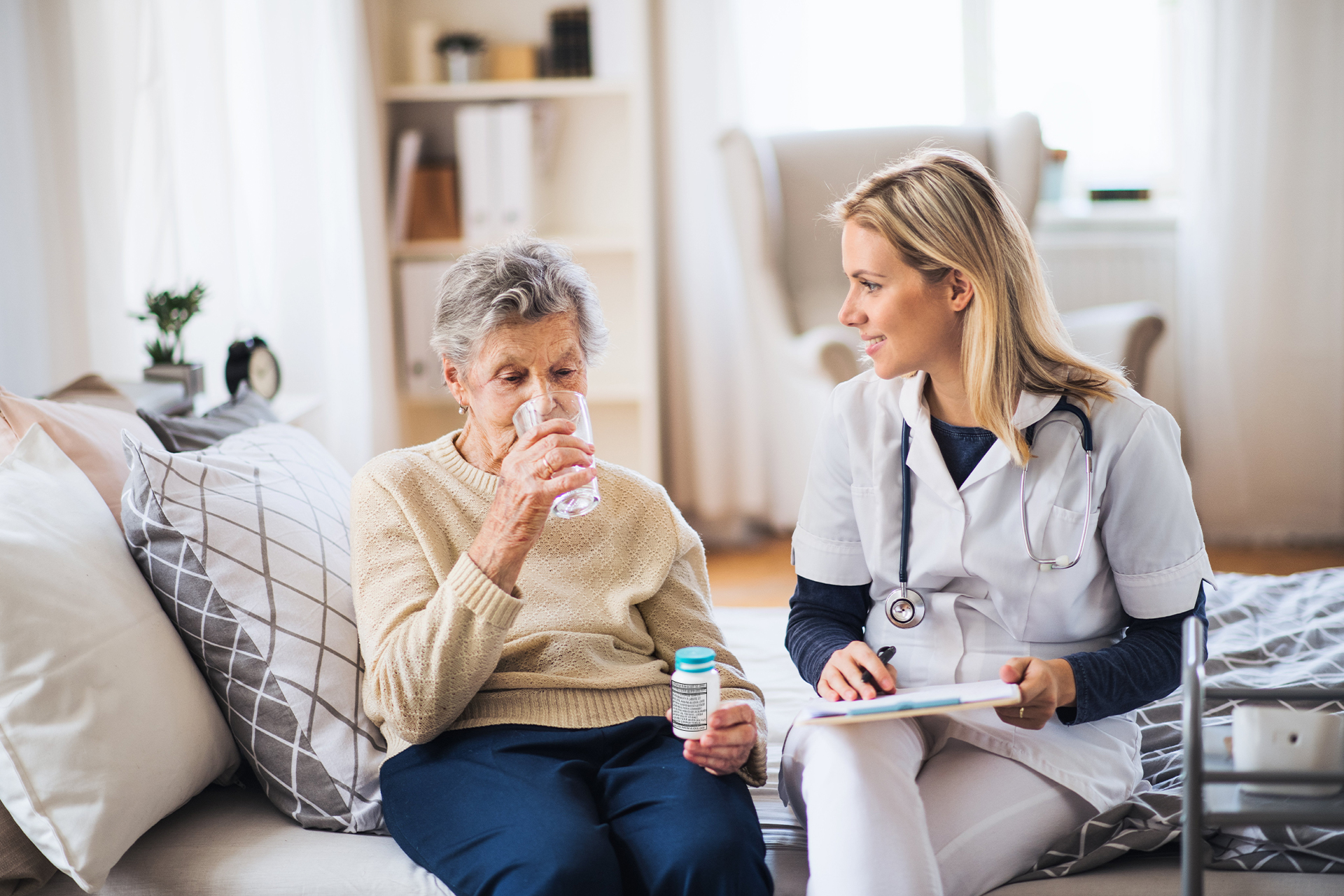 For more information on how Signature Health Services can help with your healthcare needs, please call 1 (800) 277-8291 or email information@signaturehealthservices.net.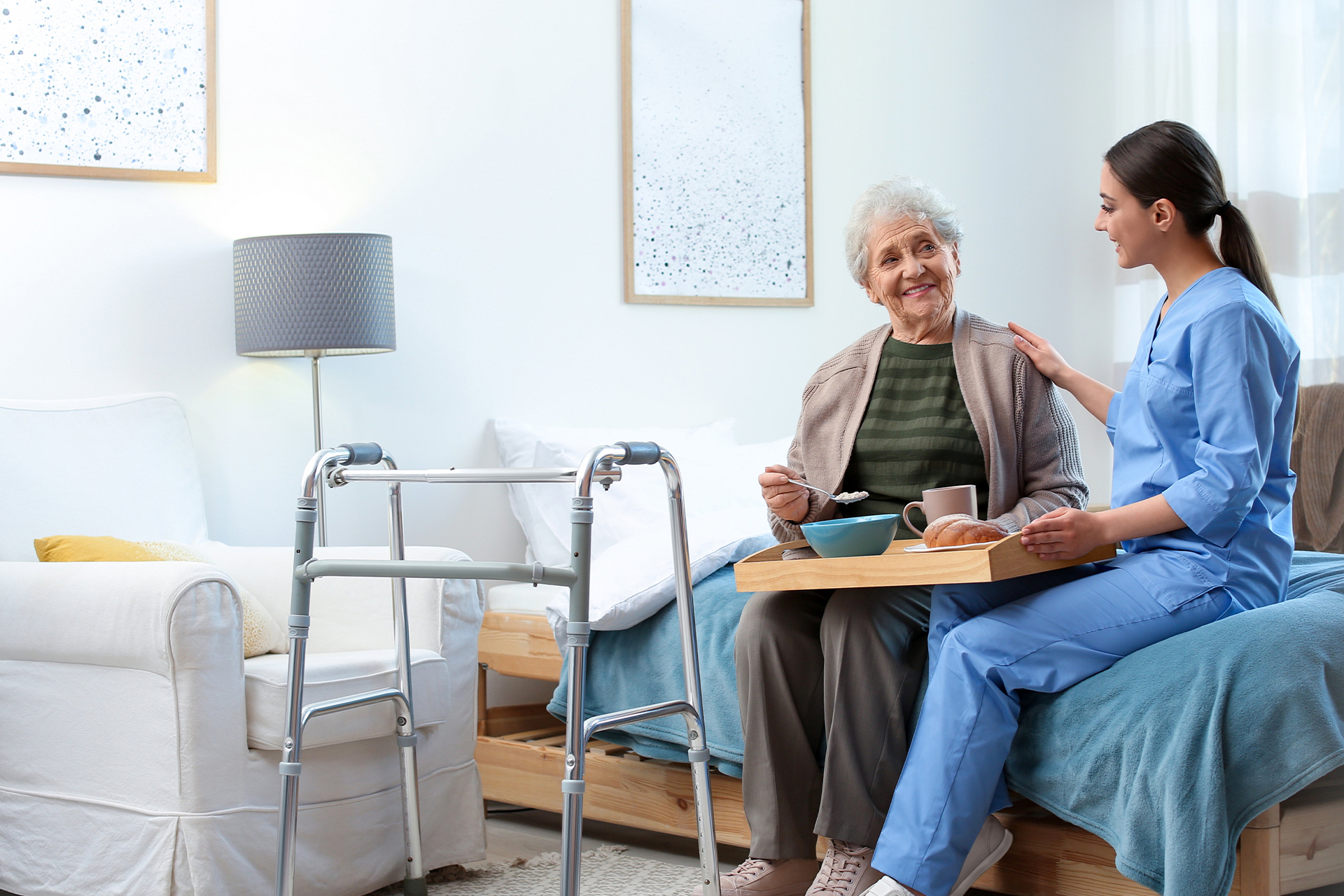 Trust Our Experience. Trust Our Team. Trust Our Results.
  ALWAYS ON CALL
   1 (800) 277-8291 (option 1)
  COUNTIES SERVED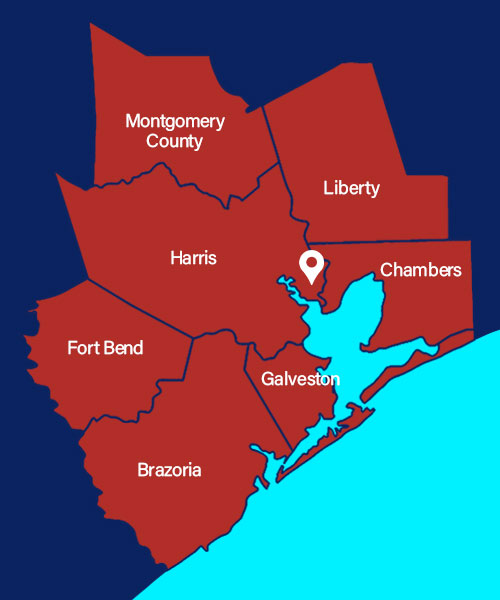 OUR VALUES
We work day and night to achieve and implement the goals below, working in partnership with our providers, to treat each patient as family.
We strive to meet and exceed the expectations of our patients and healthcare providers, including through continuing education and training. We deliver preeminent home healthcare to our patients.
We are dedicated to working with honesty, trustworthiness, and respect. We take pride in our calling to provide award-winning home healthcare.
We are committed to efficiently reaching our common goals; celebrating individual and collective achievement. A dedicated team of exceptional professional managers and nurses serves to streamline communication with providers and to deliver exceptional home healthcare to our patients.
  TESTIMONIALS
I love all of my home health people.
All Signature staff as well as therapy were very helpful.
Their services have always been great.
I really love my physical therapist. Gary has helped me so much.
This has been one of the best agencies. Very Caring nurses.
I've had a really good physical therapist and really nice nurses.
I have had excellent care & would recommended them to anyone.
Gary Dixon is the very best physical therapist in Baytown and Houston Area.